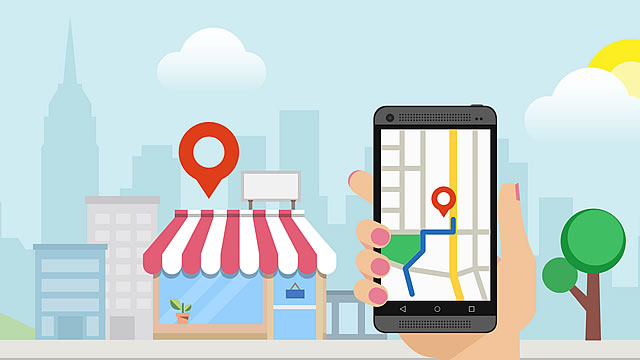 "Bike Shops Near Me" - gets a lot of searches
Local Search Engine Optimization (SEO) is an essential element of any Bicycle and Motorcycle marketing strategy. It is the one place small business has an advantage over large corporations.
To maximize opportunities you need to optimize your Brand for location-based searches. There are lots of details and many moving parts to Local SEO, but essentially its not really very complicated. Basically you need consistent, useful information in a number of different places.
Keep in mind that search results aren't just about getting discovered, they're about keeping your customers and conveying confidence before they walk through your door.
Even if your target audience already knows you're located Downtown on Main Street, they are still likely to use a search engine to both find information about you and find more about what they're interested in.

The last thing you want to do is take your existing clientele for granted. If they use the internet (search engines and social media) to double-check location; or look for prevailing prices and special deals; or vendor and product reviews; you certainly want them to see your business and offers displayed prominently and positively.
Give Google What It Wants - By Giving People What They Want
Google published these findings in 2014, you can imagine even more usage of mobile search.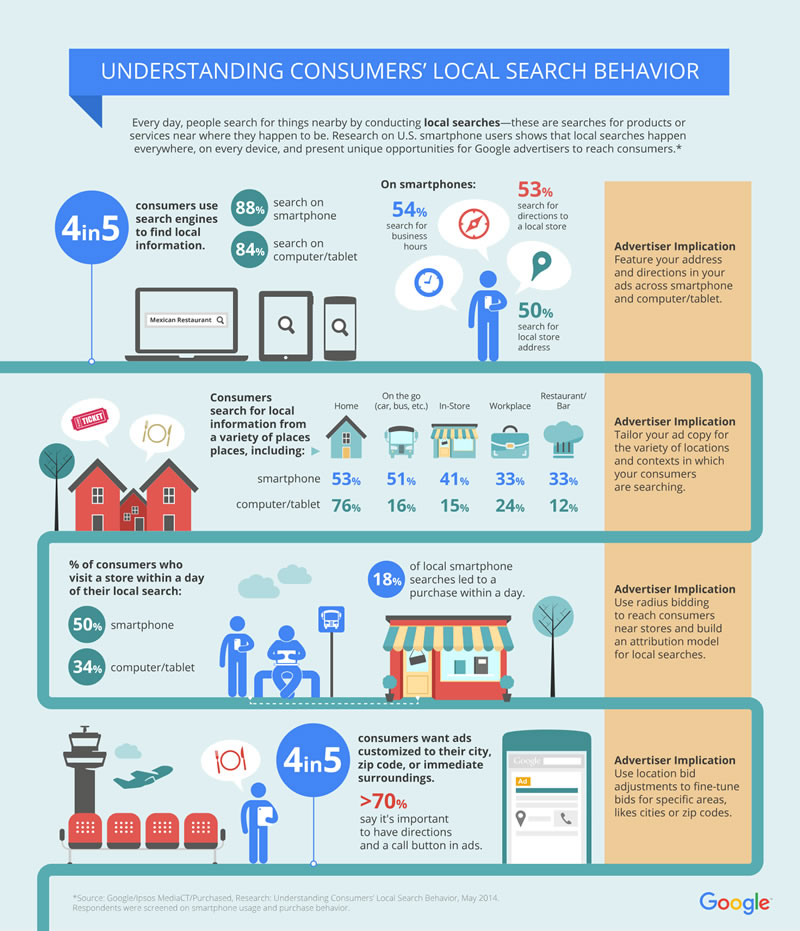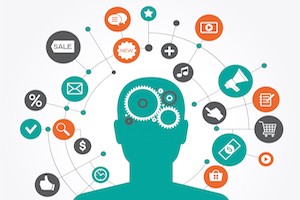 Google RankBrain
Artificial Intelligence
Search Algorithm
Search Engine Ranking is Different Now
(no, SEO is not dead, it matters more than ever)
If you want your Brand and Offers to get found through search results (Google, Bing/Yahoo, etc.), common-sense advice from Motorcycle & Bicycle Marketing Consultants suggests that you list your Biking & Cycling business or organization in location-based and relevant niche directories (citations); engage in social network interactions with peers and customers; produce quality content (articles, images, video, etc.); use 'mobile friendly' websites; make sure things not only look good but have proper 'behind-the-scenes' code; and importantly, connect everything together.
Having these things in place is a good start.
Keep in mind that if you really want to compete for search engine rankings you should also probably be considering - What Does Google Really Want and How Do They Figure-Out Search Results?
Google has developed an advanced search algorithm - that uses machine learning artificial intelligence - they call "RankBrain" to deliver what they consider to be the best possible search results to inquiries. While all the factors that go into search results and rankings are constantly changing and very complex - it really boils down to how Google looks for and evaluates "Solutions to Problems" and/or "Answers to Questions".
Google has almost one million computers crunching data around the world that they use to try to understand (and influence) internet usage.
They attempt to match up what they think someone wants with an entity (identifiable brand, person, thing) that is best qualified to provide it. They track user behavior, but more importantly they invest heavily in analyzing 'entities' and their 'data relationships'.
The Google algorithm analyzes content extremely well now, and it is also moving toward prioritizing mobile-devices and voice-search. "Mobile First" indexing means that they evaluate and list websites based on how they will appear on mobile devices before they index sites for desktop-based searches.
Another major paradigm shift is the whole notion of 'keywords'. While it is still important to use meaningful wording that people are looking for - we should all stop obsessing with things like 'long-tail keyword phrases, keyword density, and monthly search volume'. Current best practice is to write/create useful content that includes a variety of meaningful words - and let Google figure it out.
Instead of focusing on the 'words' people use in search, focus on 'what answers are they looking for'. That said, the concept of optimizing for long-tail keywords (long phrases) makes sense if you're actually going to write about and solve an issue related to that phrase. Simply sticking a long keyword phrase into a header tag or page title isn't enough anymore.
There are still things that can be done to improve all search results, such as to be sure to include location information in your content when it makes sense. While we emphasize writing for people first, there are some important 'backend' writing techniques that help SEO; these include 'meta' and 'schema' information which are seen from the dashboard admin when writing/updating posts.
Answering the 'who, what, when, where, how' that people are looking for will give you an advantage over other content.
Focus on identifying what people want, not just the words they use. Provide a solution to that demand (answer the question) - write for people not search engines.

Give Google the confidence to recommend you to their users.
BikingPress is designed to help you Give Google What it Wants.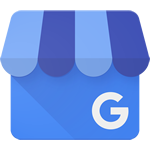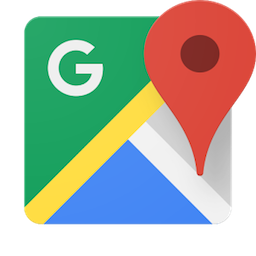 Give Google What it Wants
- Verifiable Authority Related to Search Inquiries
- Mobile-Friendly Content
- Structured Data it Understands (behind the scenes code)

The Google RankBrain search engine is looking to present a solution to the search inquiry made by someone expressing an interest in something (not just keywords but tailored for that specific person and their web history). The algorithm tries to associate an 'entity' (brand, person, thing) providing answers/solutions and it uses 'data relationships' (content, links, mentions, profiles, track-record of successful engagement [click through and dwell time], user experience, and more) to determine authority and how high to rank the information they have to offer.
To compete for search engine ranking position (SERP) requires some effort and strategy. First step is to make sure Google knows as much about you as possible. You can use BikingPress to establish data connections, and to keep them active and updated with the signals search engines look for.

Google is also obsessed with location data - because it carries a ton of 'certainty' - that is a big reason you want to be associated with a location on a map (Google Map) and make sure you've claimed your Google Places listing.
You can also Claim and see how Google lists your information on the BikingPress Directory.
Is It Worth the Effort?
Google is responsible for at least 60% of search activity, and by some metrics more than 80%. Search results on the first page of Google for Bicycle and Motorcycle inquiries get something like 90% of the clicks, and top of the page gets most of these; first position getting maybe 35%.
Traditionally, if you earned Google number 1 rank position for some set of search inquiries that generates 1,000 searches a month on the internet, you'd enjoy something like 250-300 visits every month. [at that point you'll need to focus on 'conversions' and 'engagement' - but that is a whole other big topic]
That's why there is so much competition to get first page listings - and there are different places on that page you want to be seen: Google Answer Box, 3-Pack, Knowledgegraph, Site Links, Images, Video, Related Social, Above the Fold, and if someone clicks the 'also searched for' you want to rank there too.
But the whole way Search Results are getting generated and what gets shown to people is changing; and changing fast.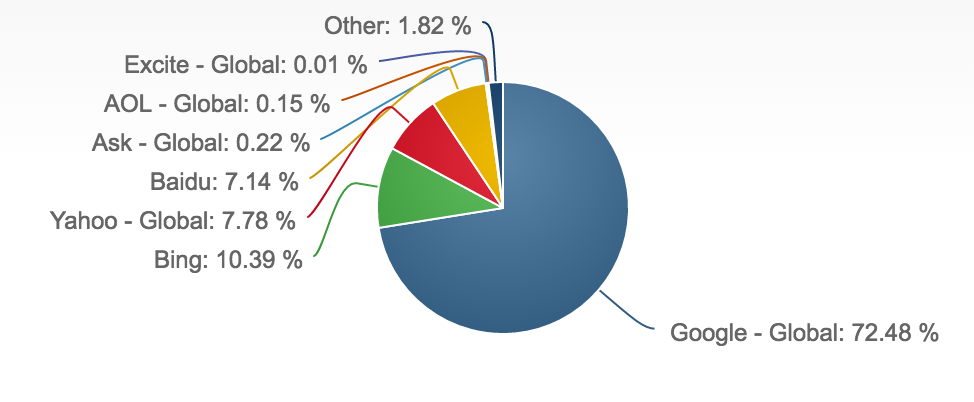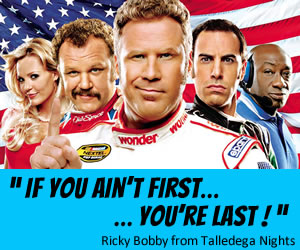 BikingPress Helps You Rank in Google
and Drives Traffic to Your Offers

Motorcycle & Bicycle Business and Organizations need to consider whether or not it is worth the effort to attempt to get top SERP (search engine results position). Google is biased toward 'brands' because they are considered 'verifiable' - that's why even a one-person operation still needs to think about branding if they want to leverage and get the most from online marketing efforts.
Local Search does give you an advantage for searches like Bike Shop Near Me - but you'll probably want/need to make sure you're also getting as much visitor traffic as possible from other sources such as social media, YouTube (think of it as a search engine), Bing/Yahoo,  advertising, referrals, and other referral sources such as citation directories like Yelp or TripAdvisor.
Quick note about the word "Offer" - your offer is not some schmaltzy product promotion, it means what you do for people. Before you start investing time, effort and money into online marketing is a significant way - you need to have a well defined idea of what your 'offer' is. What are you offering, and to whom, and how...